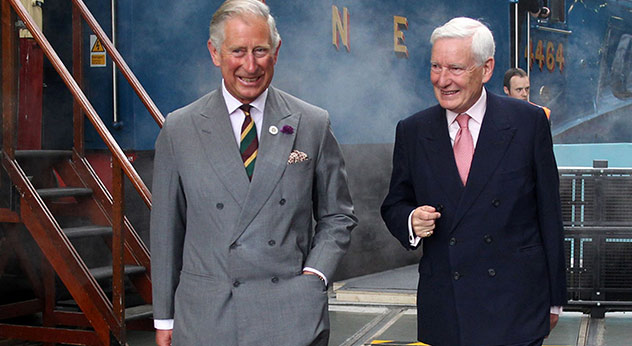 Double breasted suits are making one of their regular return to fashion and this week I have three suits to talk about. The first is being worn By Charles, Prince of Wales and shows why a double breasted suit only ever comes in and goes out of fashion rather than being a regular fixture. The Prince's suit is a perfect example of what it shouldn't look like but often does. The big problem with double breasted jackets is that they only look good when fastened but keeping them fastened is rather restrictive.  As you can see in this picture this is not a good looking suit.
From a technical point of view the collar is put on badly which explains those little creases down each side by the neck.  The badly put on under-collar helps explain the other wrinkle down to the top collar.  From a style point of view there are many points but it would be vastly improved if the top non-fastening buttons were spaced further apart as on the jacket the man next to him is wearing.  Having a jacket like this is the risk you take if you don't pay a lot of attention to style details when you buy double breasted.
On the other hand, they can look great.  Here are two examples that I like a lot: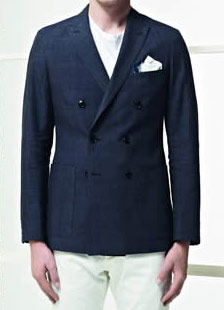 In the first jacket I like the slim line but think the sleeves are too short, (if you are planning on wearing a jacket without showing shirt cuffs make the sleeves longer,  make them come down to where the shirt cuff would be if you were wearing one).  Note that the fastening buttons are quite high on this jacket, this is a matter of choice but I prefer to see them a little lower personally.  Funnily enough in this picture it looks as if the top button on his left hand side is further out towards the armhole than the button on his right.  Apart from those points though, this looks good.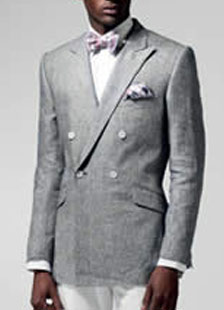 The second jacket is a different style, one button show two as we say rather than two button show three above.  This is altogether more stylish and notice how the slightly wider spaced top button is more attractive.  As a rule of thumb the top button should be as far in from the crease edge of the lapel as the fastening button is from the edge of the jacket.  That gives emphasis to the opening of the jacket.  The lapels are rather wider than the jacket above as well,  and I like the slanted pockets.  It is creasing a bit down the sleeves but I think this is a linen or similar fabric and they crease easily.  I like the slanting pockets which gives it some dash. This jacket is not the height of fashion due to the lower buttons and the fact it is one show two but it is a very good looking jacket and shows you exactly why having suits made as against buying ready-made gives you the opportunity to be stylish rather than just fashionable and an individual.
A suit in the first jacket one in a fine quality wool cloth would cost from £1050 for an entry level suit to £1410 for a fully bespoke while a jacket would cost from £790 entry level to £1150 fully bespoke for an average sized man.
A suit like the one in the second picture in a superb linen mixture cloth that is far more crease resistant than pure linen would cost from £1200 for an entry level and £1550 for a fully bespoke version. A jacket would cost from £875 for entry level and £1200 for fully bespoke for an average sized person.
To find out the difference between fused and floating canvases click here to read our helpful guide.
If you would like to know any more details or to find out how to order a bespoke suit like these from us in Savile Row then please Contact Us