This is a fantastic example of a bespoke suit made in a very high quality cloth, it's pluses and minuses.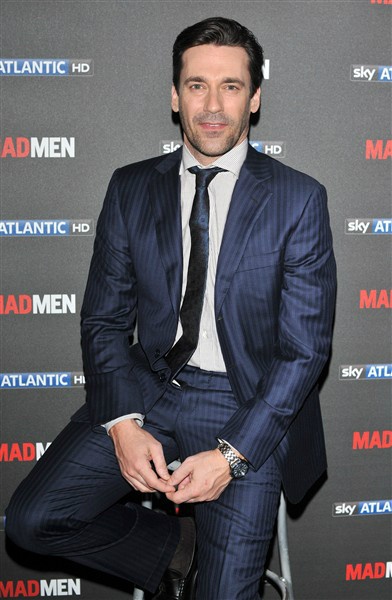 On the plus side, this is a beautiful looking cloth.  It is a super 160 or 180 very fine quality wool worsted.  Holland and Sherry have such a cloth.  It will feel marvelous against the skin and will allow you to move effortlessly inside it.  It looks creased now while he is sitting down but when he stands up it will fall effortlessly to the shape of his body, and the shape imposed by the tailor's skill!
The minuses are  that it creases.  All those wrinkles are because as the cloth is so soft it has no resistance, the property that makes it so comfortable and allows it to fall so effortlessly is that softness but the price is that it doesn't always look good.  This is a bespoke suit with a floating canvas.  If it had been with a fused interlining it would have creased less.  There are also great difficulties in making up cloth of this quality.  If you look at his left shoulder you will see that it isn't really lying flat to the body.  This is because with so fine a cloth getting enough fullness in to the back shoulder is very hard and if there's not enough this is the outcome.  Due to the way the shoulder is held while sewing it is always more difficult to make a first class job of the left shoulder  so if there is going to be a problem, that will be the side.
When I sell this quality cloth I always make sure the client knows the down as well as the upside.  I usually advise that this quality should only be bought if it is going to be a "special occasion" suit.   Standing up and circulating at a meeting this suit will look marvelous but imagine what this would look like after say eight hours of wear.  I think it would have been improved if the sleeves had been made just a little wider at the elbow, giving slightly more room for the arm to move inside without creasing quite so much.  One cannot see the trousers but the same creases etc will be there.
A fully bespoke suit in a super 160 cloth like this will cost £2050 with a floating canvas or £1750 with a fused interlining.
If you would like to know any more details or to find out how to order a bespoke suit like this then please Contact Us