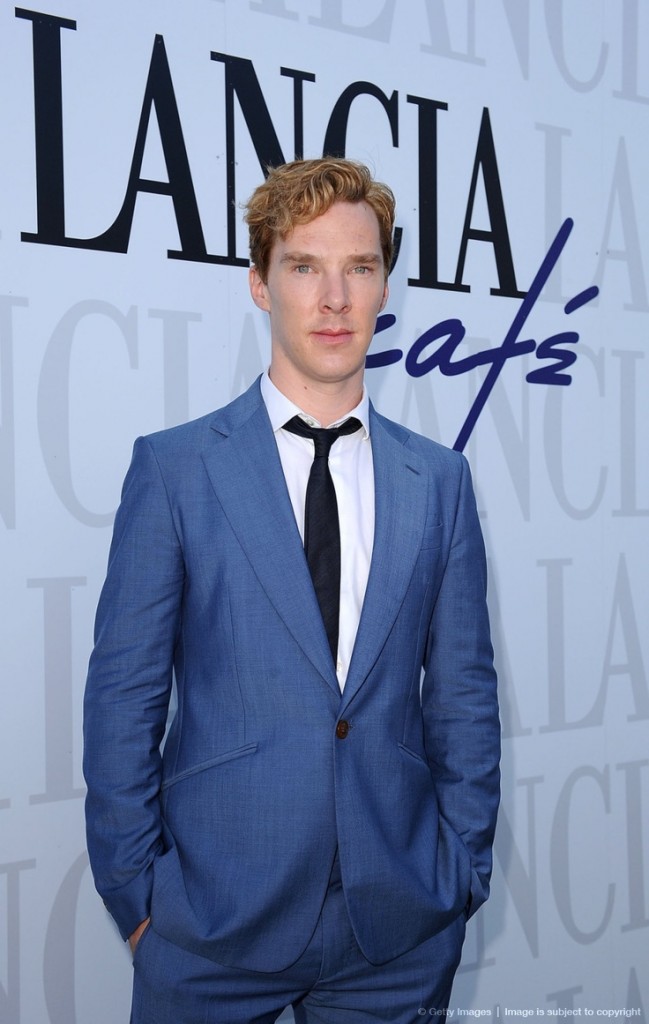 He has a modern slim fitting suit which is clearly bespoke from the high armhole and narrow sleeves. It has slant side pockets with no flaps and a contrasting button on the one button front.
So far the suit is reasonably fashionable but from all the pictures one sees of Benedict Cumberbatch it's obvious that he's more interested in style than fashion. The slim fit may be fashionable but the lapels width  certainly isn't. Mr. Cumberbatch has obviously ordered them like that because that is what he wants.  It suits his style, as does the contrasting button.
The beauty of bespoke is that you can impose your own views on what fashion dictates, it's you rather than a designer who calls the shots.  I think those lapels look very good and quite outstanding on Mr Cumberbatch, personally, as he has a rather long neck, I would have preferred a deeper shirt collar and to have raised the collar higher on the neck while keeping those signature lapels which would have kept the look but have been more flattering.
A bespoke suit like this in blue mohair and wool would cost from £1200 for a fused entry level suit to £1570 for a fully bespoke floating canvas suit. To find out the difference between fused and floating canvases click here
If you would like to know any more details or to find out how to order a bespoke suit like this then please Contact Us