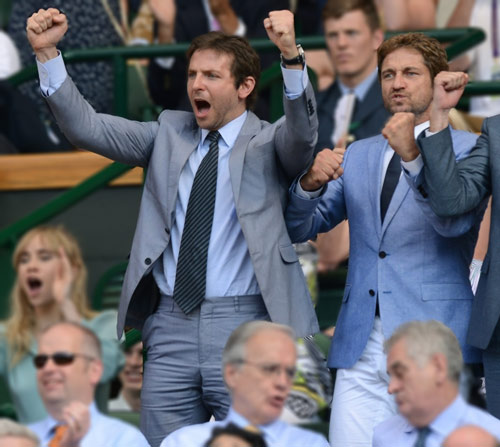 The suits being worn by both Gerard Butler and Bradley Cooper are outstanding not just for the fact they look good on them but because after watching the Murray Wimbledon final for hours their jackets look so uncreased and the pair of them look very cool and comfortable.
If you expand Gerard Butler's jacket you will see that it looks like linen.  When you wear linen it creases in moments, this jacket looks fine after hours of wear.  I think this cloth is the amazing new cloth from cloth merchants Holland and Sherry.
The cloth is Techlana, a mixture of super 100 wool with 45% linen and 15% Techlana. Techlana itself is a man-made fibre based on cellulose unlike most man-made fibres are very warm to wear and are made from petro-chemicals.
I have made a number of casual jackets and trousers in this cloth including a pair of trousers for myself.  I find it as cool as lightweight wool or cotton but far easier to look after.
Bradley Cooper's suit seems to be of another version of this fabric but without the linen.  As you can see his trousers are creased but the jacket is fine.  In the heat of Andy Murray's magnificent final I suspect we all got warm enough to cause our clothes to crease when sitting for over three hours watching a fantastic Wimbledon final.
A suit in a similar fabric range would cost £1150 for an entry level fused bespoke suit to £1500 for a for a floating canvas fully bespoke suit.
To find out the difference between fused and floating canvases click here.
If you would like to know any more details or to find out how to order a bespoke suit like this then please Contact Us