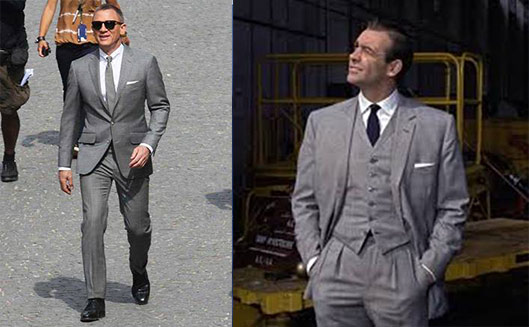 Here are photos of the two best James Bond.  Both were and are style icons, Daniel Craig and Sean Connery.  Daniel Craig's clothes have sparked a 1950 revival.  I thought it might be interested to see how 1950's differed from 2013 revival.
In the early days of the James Bond series the actors had their suits made by the tailors they used for their own clothes.  Sean Connery used Anthony Sinclair who had a first floor shop at the Bond Street end of Conduit Street, just opposite Cyril Castle's shop where Roger Moore had his clothes made. In the movies Sean Connery's cloths were made by Anthony and Roger Moore's by Cyril.  Nowadays the tailors are selected by the film company.   That is probably why Sean Looks so at home in his clothes.  They fit him well and he looks very comfortable indeed.   They are both bespoke as can be seen by the fit of the shoulders and armhole.  They both have floating interlinings but Sean's is a flax canvas while Daniel's is wool and linen mix.  You can tell that by the very soft creasing in the fronts where he has pushed them back by putting his hands in his pockets.  The creases are far crisper in Daniel's.
If you look at the two pictures you will see a lot of differences.  Sean Connery's is far looser fitting.  If you look at the chests of each jacket you'll see that there is a fold, or "drape" as it was called then where the sleeve joins the body at the chest.  The shoulders are far wider too and the sleeves are an easier fit.  The lapels a similar width and the notch is the same height, give or take a fraction.  The biggest difference is in the trousers though.   It's hard to see how close fitting the trousers are on Sean Connery's suit but if you look at how tight they are where his hands are in the pockets I think they would be pretty slim fitting.  As you can see Sean has pleats and are far higher in the waist.   Sean is wearing what was an absolutely classic Savile Row suit of his day.  Anthony Sinclair was very well established tailor and in those days Savile Row, Sackville Street, Conduit Street and Maddox Street were all considered as Savile Row, which was then more of an area than just a street.  The loss of many bespoke tailors has led to the fact that those who are left are far closer together on more or less the one street.
All these difference being accepted they both look extremely elegant.  It has to be said that Daniel Craig has what is today a more fashionable look but Sean Connery's ease of wearing would give him the edge in a gentleman's club in St. James Street.   The whole point of having your suits made by a bespoke tailor of Savile Row quality is to give you that sense of confidence by knowing that your clothes look effortlessly good, they fit and are comfortable and flow when you move.  The fact that Sean Connery's jacket creases so easily when he puts his hands in his pockets shows the quality of the making.  Look at how much stiffer a cheaper jacket looks when it's creased by movement.   Both suits are great and are an excellent advertisement for quality bespoke tailoring.  Both are light to medium weight, Sean Connery's is certainly wool while Daniel Craig's might be wool and mohair.
I can make a similar quality two piece bespoke suit in a cloth similar to Sean Connery at the fused entry level for £1200 or for a floating canvas with hand finishing suit at £1570, a waistcoat would add a further £350 in either case.  One like Daniel Craig's would cost £1250 for a fused entry level two piece or £1600 for the same thing with a floating canvas. To find out the difference between fused and floating canvases click here.
The shirts are also very interesting, Sean is  wearing a cut away style shirt collar while Daniel has a small collar held together with a tie pin, not a common style at that time.  It was more common in the thirties as shown in Boardwalk Empire on Sky TV but there they tended more towards the collar being rounded.  The rather buttoned-up look of Daniel Craig detracts from the comfortable ease of Sean Connery look.  I can make any of those styles in my bespoke shirt range.
If you would like to know any more details or to find out how to order a bespoke suit like this then please Contact Us