Give the gift of style
Style is a very personal thing, so rather than try to second guess it for a gift, how about choosing vouchers instead?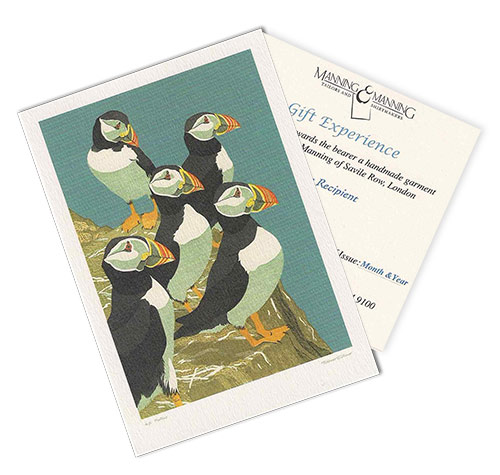 Our beautifully presented gift vouchers take all the stress away from choosing a present, and you can relax in the knowledge that the recipient will be able to browse our hundreds of colours and styles to choose the perfect one for them.
Manning & Manning gift vouchers are ideal for a birthday, anniversary, Christmas or just because you care, and you can relax in the knowledge that you have chosen a timeless gift, whatever their taste. Our expert tailoring services make for a truly unique gift experience, and one that can be enjoyed and remembered for years to come; it's the gift that keeps on giving.
The vouchers can either be sent directly to the recipient on your behalf or to you. Prices start at £115 for an individual made-to-measure shirt and £1000 for a suit. This includes a personal measurement appointment and, of course, a superbly finished handmade garment of your choice.
Our Vouchers are now available for purchase online making it even easier to buy the perfect gift.
For further information on pricing for suits and other clothing options, please e-mail us or phone on 0207 7349100.
At Manning & Manning we like to add a personal touch with everything we do. So all our vouchers will come presented in an artistic card rather than cold corporate branding. We change the designs on a regular basis to keep things interesting so please check back when ordering to view our latest selection to choose from.
Design 1
Design 2
Design 3
Design 4
Gift vouchers can be used to buy anything I sell, from top quality made to measure shirts to made to measure or fully bespoke suits, jackets or trousers.
As all these items are made specifically for the recipient they can all be completely personalised.  The shirts can be in a wide variety of styles and can be monogrammed.
I can make virtually any style of suit that may be wanted with over two hundred cloths at least to choose from.  You can have an extremely wide range of linings from quiet conservative matching linings to outrageous bold linings that could never be bought ready-made.  Each garment, except shirts, has its own label with the clients name and date of purchase on it. All garments including shirts have a Savile Row label and can be monogrammed also if desired.  The variety of cloths and making methods, see my fused or floating article elsewhere on this web site, means that prices for a suit can start as low as £1000 but can also go up to far higher depending on fabric selection etc.  Trousers start at £350 and jackets from about £650.  What I can say for certain is that no-one can make a suit of the same quality in the same cloth for less.
The gift voucher comes in a card with the person receiving it name and can show the value of the voucher if requested.  It can be sent to the purchaser who can add their own message if that is requested.