At Manning & Manning the exceptional quality shines through. Once you have seen the pride we take in our clothing you will understand what we mean.
All the suits we make are bespoke. I cut the client's individual paper patterns for my suits, I cut the cloth, and they are made by hand in London.
This means there is no limit to the fitting or style options which can be checked at the fitting stage.
There is the same high quality range of fabrics available in either option, we often use Holland and Sherry fabrics and you can visit their web page at www.hollandandsherry.com to see a selection of their fabrics.
Alternatively, you may wish to view our selected cloth ranges from John G. Hardy and J&J Minnis (simply click on the range name below):
Cloths suitable for Jackets
Cloths suitable for Suits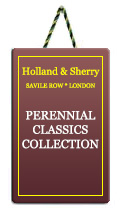 All clothing is made by hand. The work is undertaken only by master craftsmen who have been trained under personal supervision from Bryan Manning in the best methods and techniques of the trade.
In most cases jackets are approximately 2/3 the price of a suit and trousers 1/3 the price.
If you have any questions concerning our prices or would simply like an estimate over the telephone or by e-mail, please do not hesitate to contact me personally.
Give the gift of style
Style is a very personal thing, so rather than try to second guess it for a gift, how about choosing vouchers instead?
Our beautifully presented gift vouchers take all the stress away from choosing a present, and you can relax in the knowledge that the recipient will be able to browse our hundreds of colours and styles to choose the perfect one for them.
Manning & Manning gift vouchers are ideal for a birthday, anniversary, Christmas or just because you care, and you can relax in the knowledge that you have chosen a timeless gift, whatever their taste. Our expert tailoring services make for a truly unique gift experience, and one that can be enjoyed and remembered for years to come; it's the gift that keeps on giving.
The vouchers can either be sent directly to the recipient on your behalf or to you. This includes a personal measurement appointment and, of course, a superbly finished handmade garment of your choice.
Our Vouchers are now available for purchase online making it even easier to buy the perfect gift.
For further information on pricing for suits and other clothing options, please e-mail us or phone on 0207 7349100.
At Manning & Manning we like to add a personal touch with everything we do. So all our vouchers will come presented in an artistic card rather than cold corporate branding. We change the designs on a regular basis to keep things interesting so please check back when ordering to view our latest selection to choose from.