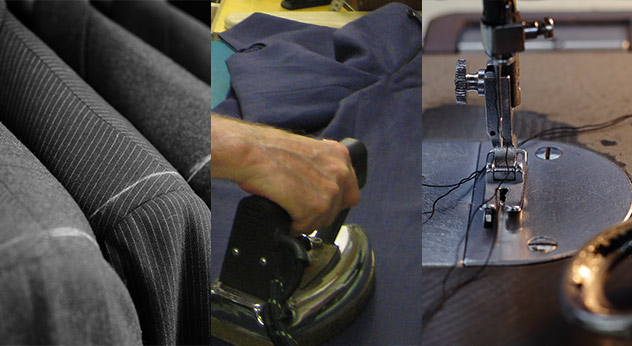 A bespoke suit is a big investment and should look as good as new for many years but you should maintain it appropriately.  Here are a few rules that will give you that amount of wear.
You should brush the pockets, collar and lapels often to remove any dirt.
You should try very hard not to wear a suit, particularly the trousers, two days running.  This is because wool fibre is a bit like a spring, which is a great advantage when making or wearing the garment, but just like a spring if you over stretch it, it won't return to its original shape.  If you travel a lot and want to keep your luggage down I suggest you order two pairs of trousers and rotate them while you are away.
Always hang your jacket on a properly shaped hanger which will support the shoulders. Do not fasten the front buttons on your jacket when you hang it up because you should allow the fronts to cross over each other, bespoke suits fit you, not the hanger.  Ideally trousers should be hung vertically from the bottom which allows the weight of the trousers to pull the creases out.
Try to carry as little as possible in your pockets as this will both make it look unsightly and will put a strain on the seams.  I build as many pockets as possible in to your jacket when I make it to allow you to spread the things you carry as thinly as possible.
Unbutton your jacket front button before you sit down because once again we fit you while standing and you measure more when sitting.  Sitting down with a fastened button will put quite a strain on the jacket.
I give you a hanging bag with your suit and you should store it in your wardrobe in that bag.  I advise not put it in the bag as soon as you take it off but to hang it up outside the wardrobe overnight or at least for a few hours to let it air before putting it away.
As I'm keen my bespoke and made to measure suits should really get the attention they deserve I offer a reasonably priced sponge and press service.  At that time we can look the suit over and advise on any maintenance that might be needed.
Suits should be dry cleaned once a season or thereabouts. However dry cleaning too often is not good for the suit as it dries out the natural oils in the cloth.
If you would like to know any more details about how to keep your suit looking its best, please dont hesitate to Contact Us