At Manning & Manning the exceptional quality shines through. Once you have seen the pride we take in our clothing you will understand what we mean.
We know how to keep our customers happy so our ranges can be made to fit whatever your need; it's also important to us you get value from your purchases.
All the suits we make are bespoke. All my suits are cut from the client's individual paper pattern by hand but we have two ways of actually making the jacket, either with full floating canvases or with a fused interlining.(You can find out more information about Floating or Fused Here)
This means there is no limit to the fitting or style options. In the case of full bespoke suits there are more fittings while in the semi-bespoke we go straight to a near finish and make any small adjustments then.
There is the same high quality range of fabrics available in either option, we often use Holland and Sherry fabrics and you can visit their web page at www.hollandandsherry.com to see a selection of their fabrics.
Alternatively, you may wish to view our selected cloth ranges from John G. Hardy and J&J Minnis (simply click on the range name below):
Cloths suitable for Jackets
Cloths suitable for Suits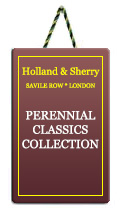 All clothing is made by hand. The work is undertaken only by master craftsmen who have been trained under personal supervision from Bryan Manning in the best methods and techniques of the trade.
The Semi-bespoke suits in Holland and Sherry John Cooper range start from £1000
Full Bespoke also in the John Cooper range start from £1700
In both cases jackets are approximately 2/3 the price of a suit and trousers 1/3 the price.
If you have any questions concerning our prices or would simply like an estimate over the telephone or by e-mail, please do not hesitate to contact me personally.